The Hostage (Book #1 of the Stratton series) by Duncan Falconer
Movie: Stratton
When it comes out: January 5
What the book is about: When an undercover operation monitoring the Real IRA goes horrifically wrong, British Intelligence turns to the one man who can get their agent out: Stratton, an SBS operative with a lethal reputation. It's a dangerous race against time: if the Real IRA get to the Republic before Stratton gets to the Real IRA, his colleague is as good as dead.
Freak Show by James St. James
Movie: Freak Show
When it comes out: January 12
What the book is about: Billy Bloom is gay, but it's mostly theoretical, as he hasn't had much experience. When he has to move to Florida, he can't believe his bad luck. His new school is a mix of bible belles, amberzombies, and football heroes — none of which are exactly his type.
Rehepapp ehk november by Andrus Kivirähk
Movie: November
When it comes out: January 12
What the book is about: The story is set in a pagan Estonian village where werewolves, the plague, and spirits roam, but the villagers' main problem is how to survive the cold, dark winter. And, to that aim, nothing is taboo. People steal from each other, from their German manor lords, and from spirits, the devil, and Christ. They steal even if their barns are already overflowing. To guard their souls, they'll give them away to thieving creatures made of wood and metal called kratts but their greed makes the villagers more and more like the soulless creatures they command.
Horse Soldiers by Doug Stanton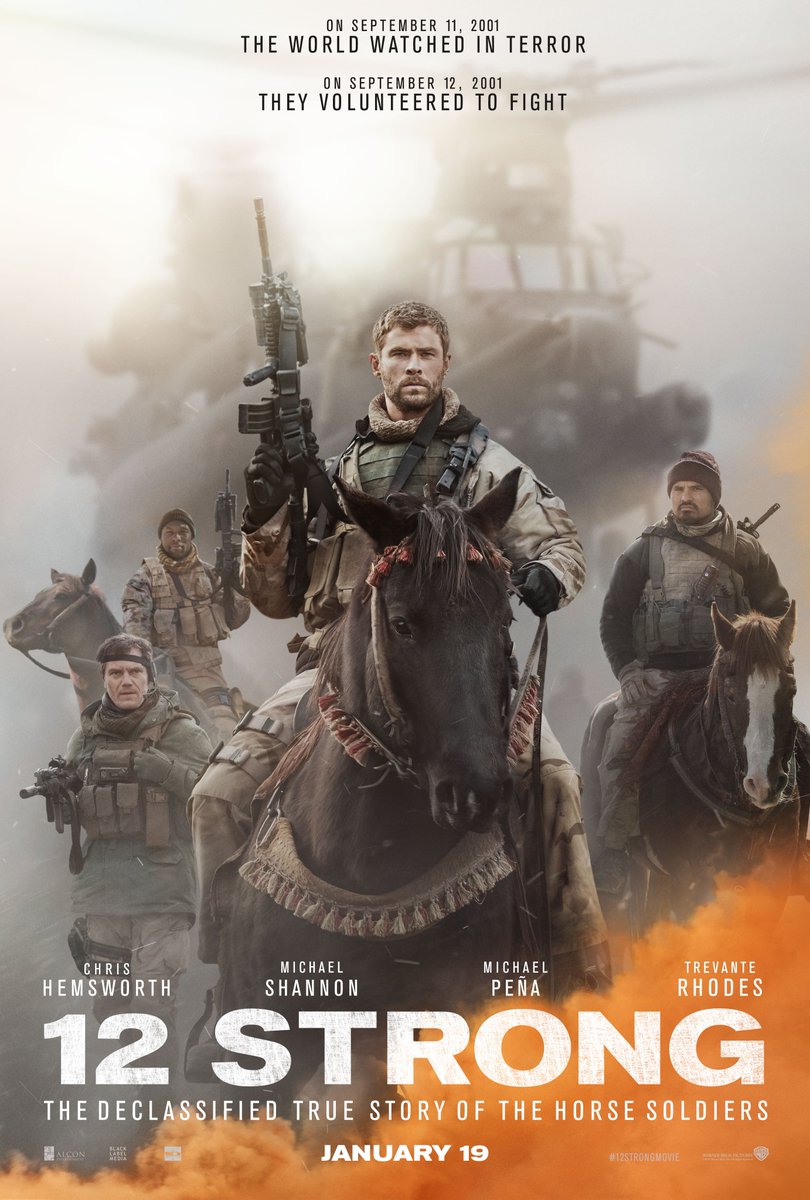 Movie: 12 Strong
When it comes out: January 19
What the book is about: Horse Soldiers is the dramatic account of a small band of Special Forces soldiers who secretly entered Afghanistan following 9/11 and rode to war on horses against the Taliban. Outnumbered forty to one, they pursued the enemy army across the mountainous Afghanistan terrain and, after a series of intense battles, captured the city of Mazar-i-Sharif, which was strategically essential to defeat their opponent throughout the country.
The Liesure Seeker by Micahel Zadoorian
Movie: The Liesure Seeker
When it comes out: January 19
What the book is about: The Robinas have shared a wonderful life for more than sixty years. Now in their eighties, Ella suffers from cancer and John has Alzheimer's. Yearning for one last adventure, the self-proclaimed "down-on-their-luck geezers" kidnap themselves from the adult children and doctors who seem to run their lives and steal away from their home in suburban Detroit on a forbidden vacation of rediscovery.
Eddie Krumble Is the Clapper by Dito Montiel
Movie: The Clapper
When it comes out: January 26
What the book is about: Meet Eddie Krumble. He's a relatively happy guy. Content-ish. Fresh to Los Angeles, Eddie and his friend Chris Plork land their first gig: clapping as paid audience members for infomercials and sitcoms so heinous that tourists won't even attend. Eddie spends long days clapping, laughing, and hissing — on cue, of course — and his life slowly begins to take shape as a relationship with Judy, a gas station attendant, begins to brew. Suddenly his life is turned on its head. In one of his nightly rants, Jay Leno scrutinizes the state of late night TV and ends up unveiling two stills of Eddie as audience members for two different infomercials. Eddie is singled out as clapper-for-hire, Eddie's career comes to a halt, and Leno turns his discovery into a segment on his show: "Who is THE CLAPPER?"