Still Dreaming: A Guide to the Essential Philip K. Dick Books
The visually striking "Blade Runner 2049" plunges audiences back down a futuristic rabbit hole mingling noir sensibilities with artificial beings living among people who want to eliminate them. But this sequel to 1982's "Blade Runner" goes way beyond cat-and-mouse suspense to explore what makes us human.
Author Philip K. Dick loved to ponder alternative universes and question reality over his forty-four novels and roughly 120 short stories, merging science fiction with philosophy. Since his 1968 novel, Do Androids Dream of Electric Sheep?, which inspired the original "Blade Runner," Hollywood has mined his works for ideas, often expanding just nuggets into films.
Dick can be a dense read or a head trip, but this member of the Science Fiction Hall of Fame has thoughts on world building that are as relevant today as they were in 1978. "[W]e live in a society in which spurious realities are manufactured by the media, by governments, by big corporations, by religious groups, political groups," he said in a speech that year. "So I ask, in my writing, What is real? Because unceasingly we are bombarded with pseudo-realities manufactured by very sophisticated people …. I do not distrust their motives; I distrust their power. They have a lot of it. And it is an astonishing power: that of creating whole universes, universes of the mind. I ought to know. I do the same thing."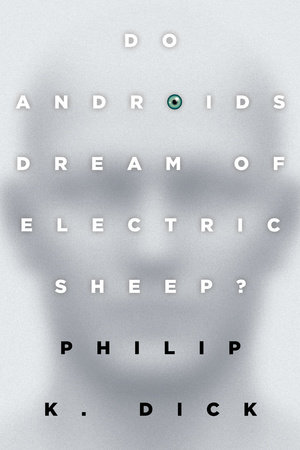 Philip K. Dick
The film adaptation of this Nebula Award nominee introduced mainstream audiences to the terms blade runner (a type of bounty hunter) and replicant (an artificial person). Fans of Blade Runner might love to compare how it veers from the book, with sequences such as protagonist Rick Deckard being arrested by a police precinct of androids. Deckard's empathy remains intact: "The electrical things have their lives too, paltry as those lives are," he notes.
Philip K. Dick
Dick references Hamlet in the title of this 1959 novel, which might remind readers of the film "The Truman Show." A man who thinks he lives in a quiet community finds reward in being a crossword puzzle champion. This mild brain teaser, however, turns out to be a ruse for a greater task only he can do – something that would devastate him if he knew the truth. This read offers a good taste of Dick's favorite themes and frequent setup of an ordinary person watching his life unravel.
Philip K. Dick
Amazon adapted Dick's 1962 Hugo Award-winning novel into an acclaimed TV series, now entering its third season. It imagines the Axis powers – chiefly Nazi Germany and Japan – won World War II and have established totalitarian rule in the United States.
Philip K. Dick
Based on Dick's short story "Shell Game," this acerbically comic novel establishes a caste-like society on a distant moon comprised of people with various mental illnesses playing to their strengths. (The paranoiacs are the statesmen and secret police. Those with mania are warriors. The schizophrenics are poets or religious visionaries, and so on.) Dick, who during his life wrote and spoke about his own hallucinations, also includes characters such as a telepathic slime mold.
Philip K. Dick
Chosen by TIME magazine as one of the 100 greatest novels since 1923, this "existential horror story" written in 1966 and published in 1969 envisions a future where psychic phenomena are common, to the point that a privacy company employs those who can block telepathic intrusions. Some of those come from the dead, who exist in a suspended state that allows them to communicate.
Philip K. Dick
Winner of the John W. Campbell Memorial Award, this 1974 novel follows a popular TV star who wakes up one morning to learn that he's never existed, and that the United States is now a police state following a second Civil War. The title alludes to a musical work by sixteenth-century composer John Dowland, and the plot mixes the espionage of forged identities and a life on the run with reality-warping drugs and parallel universes.
Philip K. Dick
Director Richard Linklater adapted this 1977 novel into a well-received animated film starring Keanu Reeves, Winona Ryder, and Robert Downey Jr. Based partly on Dick's experiences using amphetamines and living with addicts, the book focuses on an undercover cop who loses his identity as he becomes involved with a new psychoactive drug.
Philip K. Dick (Edited by Lawrence Sutin)
This 1996 collection presents Dick's worldview through an impressive mix of autobiography, speculative essays, and critiques. It includes his speech "How to Build a Universe That Doesn't Fall Apart Two Days Later" (from which the quote above was taken) and gems such as the beginnings of his VALIS trilogy and two chapters of a proposed sequel to The Man in the High Castle.