The Boy Who Harnessed the Wind by William Kamkwamba
Movie: The Boy Who Harnessed the Wind
When it comes out: March 1
What the book is about: William Kamkwamba was born in Malawi, a country where magic ruled and modern science was mystery. It was also a land withered by drought and hunger, and a place where hope and opportunity were hard to find. But William had read about windmills in a book called Using Energy, and he dreamed of building one that would bring electricity and water to his village and change his life and the lives of those around him. His neighbors may have mocked him and called him misala—crazy—but William was determined to show them what a little grit and ingenuity could do.
Transit by Anna Seghers
Movie: Transit
When it comes out: March 1
What the book is about: Having escaped from a Nazi concentration camp in Germany in 1937, and later a camp in Rouen, the nameless twenty-seven-year-old German narrator of Seghers's multilayered masterpiece ends up in the dusty seaport of Marseille. Along the way he is asked to deliver a letter to a man named Weidel in Paris and discovers Weidel has committed suicide, leaving behind a suitcase containing letters and the manuscript of a novel.
Five Feet Apart by Rachael Lippincot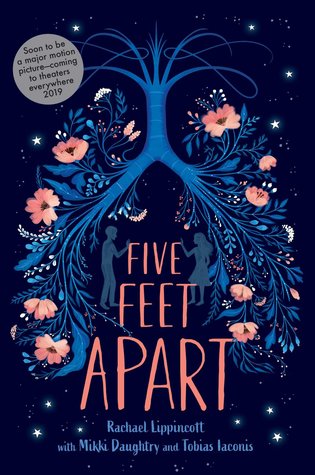 Movie: Five Feet Apart
When it comes out: March 15
What the book is about: Stella Grant likes to be in control—even though her totally out of control lungs have sent her in and out of the hospital most of her life. At this point, what Stella needs to control most is keeping herself away from anyone or anything that might pass along an infection and jeopardize the possibility of a lung transplant. Six feet apart. No exceptions. The only thing Will Newman wants to be in control of is getting out of this hospital. He couldn't care less about his treatments, or a fancy new clinical drug trial. Soon, he'll turn eighteen and then he'll be able to unplug all these machines and actually go see the world, not just its hospitals. Will's exactly what Stella needs to stay away from. If he so much as breathes on Stella she could lose her spot on the transplant list. Either one of them could die. The only way to stay alive is to stay apart. But suddenly six feet doesn't feel like safety. It feels like punishment.
The Aftermath by Rhidian Brook
Movie: The Aftermath
When it comes out: March 15
What the book is about: Hamburg, 1946. Thousands remain displaced in what is now the British Occupied Zone. Charged with overseeing the rebuilding of this devastated city and the de-Nazification of its defeated people, Colonel Lewis Morgan is requisitioned a fine house on the banks of the Elbe, where he will be joined by his grieving wife, Rachael, and only remaining son, Edmund. But rather than force its owners, a German widower and his traumatized daughter, to leave their home, Lewis insists that the two families live together.
Where'd You Go, Bernadette by Maria Semple
Movie: Where'd You Go, Bernadette
When it comes out: March 22
What the book is about: Bernadette Fox has vanished. When her daughter Bee claims a family trip to Antarctica as a reward for perfect grades, Bernadette, a fiercely intelligent shut-in, throws herself into preparations for the trip. But worn down by years of trying to live the Seattle life she never wanted, Ms. Fox is on the brink of a meltdown. And after a school fundraiser goes disastrously awry at her hands, she disappears, leaving her family to pick up the pieces–which is exactly what Bee does, weaving together an elaborate web of emails, invoices, and school memos that reveals a secret past Bernadette has been hiding for decades.
The Dirt by Mötley Crüe & Neil Strauss
Movie: The Dirt
When it comes out: March 22
What the book is about: Whiskey and porn stars, hot reds and car crashes, black leather and high heels, overdoses and death. This is the life of Mötley Crüe, the heaviest drinking, hardest fighting, most oversexed and arrogant band in the world. Their unbelievable exploits are the stuff of rock 'n' roll legend. They nailed the hottest chicks, started the bloodiest fights, partied with the biggest drug dealers, and got to know the inside of every jail cell from California to Japan. They have dedicated an entire career to living life to its extreme, from the greatest fantasies to the darkest tragedies. Tommy married two international sex symbols; Vince killed a man and lost a daughter to cancer; Nikki overdosed, rose from the dead, and then OD'd again the next day; and Mick shot a woman and tried to hang his own brother. But that's just the beginning.
The Visible Filth by Nathan Ballingrud
Movie: Wounds
When it comes out: March 29
What the book is about: When Will discovers a cell phone after a violent brawl his life descends into a nightmare. Affable, charismatic and a little shallow, he's been skating across the surface of life in a state of carefully maintained contentment. He decides to keep the cell phone just until the owner returns and everything changes. Then the messages begin. Will's discovered something unspeakable and it's crawling slowly into the light.
Unplanned by Abby Johnson
Movie: Unplanned
When it comes out: March 29
What the book is about: Abby Johnson quit her job in October 2009. That simple act became a national news story because Abby was the director of a Planned Parenthood clinic in Texas who, after participating in her first actual abortion procedure, walked across the road to join the Coalition for Life. "Unplanned" is a heart-stopping personal drama of life-and-death encounters, a courtroom battle, and spiritual transformation that speaks hope and compassion into the political controversy that surrounds this issue.