The recent announcement that Amazon has acquired rights to create streaming series based on J.R.R. Tolkien's works has the internet buzzing – not just with speculation on what Amazon might have in the works, but also whether it's too soon after Peter Jackson's live-action trilogy to work on another adaptation.
Fantasy TV series are having an absolute heyday right now, from the ongoing popularity of Game of Thrones and The Walking Dead to the relative newcomer Stranger Things, so it's understandable why Amazon's looking for the next streaming hit – but for studios looking to create a new hit rather than just riding along on an existing franchise's steam, here are a few fantasy novels to pick up that would make excellent series.
Rebel of the Sands
ALWYN HAMILTON
Those who checked out the Dark Tower adaptation this summer and didn't quite satisfy their desire for genre-blending gunslinger action would love an adaptation of Alwyn Hamilton's young adult Rebel of the Sands, which follows a teenager escaping her abusive family and dead-end town. Like Dark Tower, Rebel is set in a magical universe with a gun-slinging protagonist, and Amani's journey takes her to dangerous new places beyond her wildest dreams.
Currently, there aren't any fantasy series that combine the Western genre with speculative elements, and Rebel is a great candidate to change that. The trilogy was optioned by Willow Smith's production company, MSFTS Production, earlier this year, though no further announcements have been made about the adaptation so far.
The Fifth Season
N. K. JEMISIN
There are no zombies, but there are plenty of reasons that fans of The Walking Dead would also be into a TV version of N.K. Jemisin's Broken Earth Trilogy: an apocalyptic setting, human treachery, and a protagonist's struggle to survive in a world that wants them dead. Because in the world Jemisin has crafted, humanity's greatest crisis is that the earth itself is trying to kill them.
The Broken Earth trilogy begins with the award-winning The Fifth Season and concludes with The Stone Sky, released earlier this year. Like Rebel of the Sands, the Broken Earth trilogy has already been optioned: the series is currently in early development at TNT.
The City of Brass
S. A. CHAKRABORTY
This gorgeous debut novel that begins in eighteenth century Cairo before taking its protagonist into a magical realm is a great title to adapt for fans of the historical fantasy series Outlander. Nahri is a con artist who doesn't believe in the supernatural – until she accidentally summons a djinn who brings her into the world of magic. Chakraborty's worldbuilding is gorgeous, and Nahri – an aspiring physician – is the sort of clever and skeptical protagonist that makes for fun storytelling.
The most recently-published title on this list, The City of Brass is the first in a planned trilogy, though the first novel is rich with potential source material for a gorgeous historical series.
Monstress
MARJORIE LIU & SANA TAKEDA
While series adapted from comics tend to be restricted to DC and Marvel's sprawling franchises, there are notable exceptions (like The Walking Dead, as mentioned above). Another fantasy comic that would make an excellent limited series adaptation is Monstress, an atmospheric ongoing series published by Image.
A battle against tyrannical forces, a lavish art deco-inspired style, and a protagonist wrestling with a literal inner demon – what more could viewers want?
Monstress has quite a bit more gore than other series on this list, which may be plus or minus points depending on the studio and the viewer. But this comic is visually unlike anything currently airing – and it would make for an incredible streaming series.
Updraft
FRAN WILDE
TV shows and movies about rebellion are timely for a lot of audiences, which makes Fran Wilde's Updraft ripe for adaptation. Updraft's rebellion takes place in a city of bone spires where the term "upper class" is extremely literal: the wealthy and powerful live in the more comfortable higher strata of the spires, while the poor scratch out lives in the increasingly crowded lower strata.
This series hasn't yet been optioned for film (so if you're in charge of that sort of thing, feel free to get on it), but the Bone Universe series is complete after the publication of Horizon earlier this year.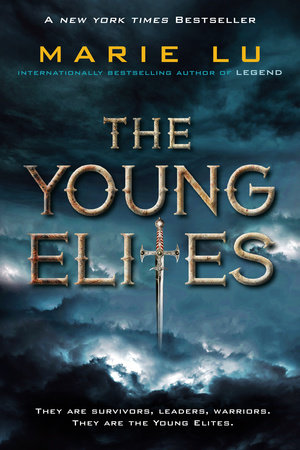 The Young Elites
MARIE LU
Anyone looking for something like Game of Thrones with less torture should pick up Marie Lu's sophomore trilogy. The Young Elites tells the story of a group of young people marked by disease and gifted with strange abilities who're fighting to be treated as regular citizens – and of Adelina, whose power puts her on a path to becoming the greatest villain her world has seen.
Told across a multitude of lands and featuring characters from a broad variety of backgrounds, The Young Elitesdefinitely shares some of the visual appeals of Game of Thrones while omitting some of the aspects that can make Game of Thrones gut-wrenching to watch.
Meddling Kids
EDGAR CANTERO
This standalone fantasy-horror novel has nearly all the elements that viewers love about Stranger Things: a group of plucky youths (though they've grown into their 20s as the story begins), a sense of nostalgia for decades past, and creepy tentacle monsters.
(Does the creature in Stranger Things count as a creepy tentacle monster?) [Editor's note: absolutely.]
Meddling Kids is a delightful marriage of spunky child detective mysteries (see its referential title) and eldritch horrors far worse than whatever a kid might imagine lurks in their closet or under their bed. Adapting the novel for a streaming series would make for a great Halloween weekend binge – and possibly reignite your childhood love of mystery-solving gangs.