Cookbooks and books about food can all tend to look and feel the same, which means we all wind up with dozens we never end up using or reading. But approaching cooking literature does not have to be this way; If you're looking for a more intellectual way in, here are some great cookbooks and reads that will surely leave you inspired, and feed both your soul and your mind.
The Devil in the Kitchen: Sex, Pain, Madness and the Making of a Great Chef
Marco Pierre White
If I have learned nothing else from watching every season of "Top Chef" multiple times, it's that chefs are rock stars. And if you've ever wondered who was the original badass of the culinary world, here is your answer. White, and his infamous temperament, pack every page of this book with a punch; in no other food book will you so closely link passion, cuisine, and insane genius. If you're game to go back for more, grab his classic cookbook, White Heat, which features incredible recipes, photographs and stories.
Karen Stabiner
People always say the first year of marriage is the hardest. But most of them probably haven't tried opening a restaurant. Now that is a hard first year. Food journalist Karen Stabiner follows up-and-coming chef Jonah Miller during the opening year of his restaurant. It's a story full of turmoil, luck, ambition and suspense, and it will make you appreciate every successful restaurant you walk into.
Gary Taubes
It can be hard to keep track of what is bad for you and why, especially foods and ingredients we've accepted as part of American diets for so long. Taubes' book about the dangers of sugar is both understandable and scientific. It's very helpful in presenting not just the scary list of "do not eats" but the history, information, and yes, misconceptions about our relationship to sugar. With a product so present in the diets of both adults and children, this is both an engaging and important read.
Alice Waters
This gorgeous memoir is the personal account of how Waters (the first woman to win the James Beard Outstanding Chef Award) became the creator of one of the most significant restaurants in America – all at the age of 27. This book has everything, from politics to bohemian culture, photography to, of course, recipes. If you aren't familiar with Waters' story, it's probably time to introduce yourself: you may not realize just how much your taste buds owe her.
Daniel Patterson and Mandy Aftel
Besides the fact that the experience of both food and perfume often begin with your nose, what else do these two things have in common? The artistry of blending ingredients. The Art of Flavor brings together a chef (Patterson) and a perfumer (Aftel) to help home cooks understand not just how to make a great meal, but how to get the most from their flavors working together. Rather than just present you with a step-by-step recipe, Patterson and Aftel's book is an intellectual look at why things work the way they do: allowing you, the cook, to not just create, but also tell a story with your food. Think of it like the best chemistry class you've ever taken – you get to eat the results.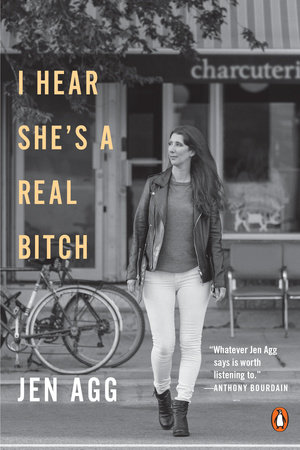 I Hear She's a Real Bitch
Jen Agg
Being a woman in a career that has been declared a "man's world" is a specific type of challenge, and that shouldn't be news to anyone, but Agg's humorous, genuine insights into the culinary industry supply a fresh voice to the narrative. The memoir details Aggs own journey making her way through an already tough business, all the while calling-out the small insights she's gleaned from playing in what is still, in many respects, thought of as a boy's game.
Out of Line: A Life Playing With Fire
Barbara Lynch
"Feisty" is a word that has been used to describe Chef Barbara Lynch and her memoir about growing up in South Boston. A wild child in many ways, Lynch offers a story free from any restraints: her voice comes sailing off the pages as she details personal hardships and showcases the self-determination needed to become the award-winning chef she is today. Lynch's book is arguably less refined than some of the others you'll find on this list, but it makes reading it an all the more authentic experience.
Feed the Resistance: Recipes + Ideas for Getting Involved
Julia Turshen
Food can communicate so many things. In it lives history, emotions, and even politics. Understanding that more people than ever are looking for ways to show their activism, Turshen has created an instructive book full of recipes, resources, and ideas for how you can use food to engage with your community and express yourself.