All hail the mighty crockpot. Within this humble appliance bounties of chilis, soups, stews, and roasts slowly cook to feed batch cookers and kitchen newbies alike. You may have already seen our roundups of great books for the air frying and instant potting contingents, so if you're looking for your next appliance-centered boost, look no further than these fantastic crockpot cookbooks.
CROCK POT: 1001 BEST CROCK POT RECIPES OF ALL TIME BY EMMA KATIE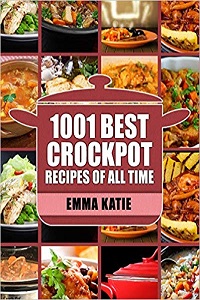 Let's start with this massive collection. Emma Katie's work is the de facto epic of crockpot cookbooks, and in a just universe would be regarded similarly to the works of Shakespeare and Homer. Katie's recipes are concise and no-nonsense, and several of them appear per page. Anything from appetizers, soups, and sides, all the way to the main course can be found here, and in spades.
THE NEW INDIAN SLOW COOKER BY NEELA PANIZ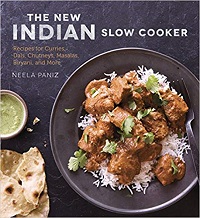 Paniz admits in the introduction to this cookbook that she had some skepticism about how well one could make Indian food in a slow cooker. "The slow cooker would be a new route to a crucial destination," she writes. "I didn't know if it could be done." Thankfully, she pulled it off, as this cookbook is a great resource for homemade Indian cuisine. As it turns out, chutneys, curries, and dals are all achievable using your crockpot.
THE SUPER EASY VEGAN SLOW COOKER COOKBOOK: 100 EASY, HEALTHY RECIPES THAT ARE READY WHEN YOU ARE BY TONI OKAMOTO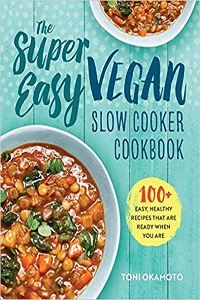 Vegan food rules. Don't trust anyone who tells you otherwise, even if you're not vegan yourself. In this cookbook, Okamoto addresses two criticisms often lobbed at vegan eating: making vegan food is time consuming and expensive. Starting with vegan basics like how to perfectly cook beans, the book evolves to include more complex dishes. It is also a handy reference guide for smart choices at the grocery store and slow cooker care. The recipes it contains will certainly satisfy anyone who tries them, regardless of their meat-eating status.
THE MEAT LOVER'S SLOW COOKER COOKBOOK BY JENNIFER OLVERA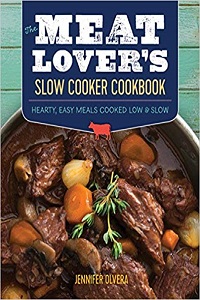 And now a counterpoint. If you're a meat eater, this collection of slow cooker recipes is indispensable. Olvera's tome has serious meat on its bones, offering instructions on many dishes, from stew to brisket. Whether you're cooking beef, pork, lamb, poultry, or seafood, you'll find something delicious here. (There're even a few vegetable recipes!) Look, life is about balance, so I think this cookbook is a great companion to Okamoto's vegan dishes.
THE FRENCH SLOW COOKER BY MICHELE SCICOLONE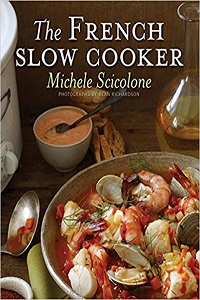 Scicolone's The Italian Slow Cooker and The Mediterranean Slow Cooker are two of the best crockpot cookbooks, but The French Slow Cooker is my personal favorite. Despite French cuisine's notoriously challenging reputation, here you will find simple and accessible ways to prepare many of the cuisine's mainstays.
FIX-IT AND FORGET-IT BAKING WITH YOUR SLOW COOKER BY PHYLLIS GOOD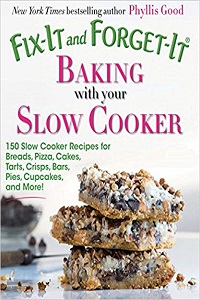 Baking purists may scoff at the idea of baking in a crockpot. But for those of us not quite up to Paul Hollywood standards in the kitchen, there's something undeniable about the idea of baking cake this easily. Good's series of crockpot cookbooks also includes diabetic friendly recipes and a five-ingredient collection.
THE ASIAN SLOW COOKER BY KELLY KWOK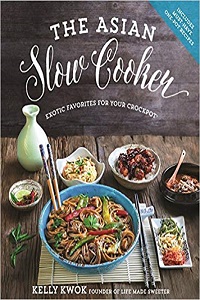 Kelly Kwok, founder of Life Made Sweeter, endeavors to empower her readers to make quality dishes Asian themselves, forsaking the old pastime of ordering takeout. Whether it's noodles, rice, beef, chicken, or soups, Kwok provides great crockpot recipes spanning Chinese, Korean, and Thai cuisines. Note that not every recipe in this book involves a slow cooker, though the ones that don't are single-pot meals.
50 SIMPLE SOUPS FOR THE SLOW COOKER BY LYNN ALLEY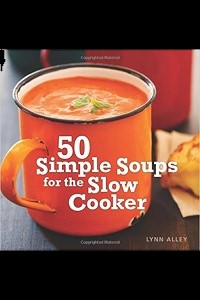 It's okay that winter is pretty much over. Soup is always great. Find me sipping clam chowder at the height of summer. For any time of year, this is a great collection of soups you can batch cook in your crockpot. The enchilada soup is delicious, and there are no fewer than three different ways to prepare black bean. Dive in, and bring a ladle.
THE TEX-MEX SLOW COOKER BY VIANNEY RODRIGUEZ
Tex-Mex is a singular cuisine, and Vianney Rodriguez wants to help people make it as easily as possible. This collection puts the crockpot into high gear, churning out pico de gallo, mole, tequila-spiked queso, and more. Coupled with personal anecdotes from the author about some of the dishes, this is as engaging a read as it is a useful one.
SLOW COOKER REVOLUTION BY AMERICA'S TEST KITCHEN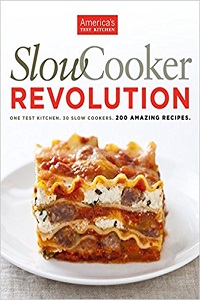 America's Test Kitchen is simply delightful. Whether it's their public access TV show, YouTube channel, or oeuvre of cookbooks, ATK is entertaining and informative for aspiring kitchen savants. In Slow Cooker Revolution, they offer their contribution to the world of crockpot cookbooks. You may use it as a guide to everything from sauces to pork loin to marmalade.
It can't be overstated: the crockpot is a beautiful invention. By simply dropping some ingredients into it and returning a few hours later, one has an entire culinary world they can access, with little to no advanced kitchen knowledge. All hail!