So You Want to Read Comedic Fantasy: Here's Where to Start
Fantasy fiction is serious business, until it isn't. While we love our multi-volume doorstoppers and grimdark epics as much as the next reader, sometimes it's fun to let loose and look for a laugh. Enter comedic fantasy.
Where fantasy began as a genre is certainly up for debate — one we're not having now — but if you consider mythology a predecessor, then humor has been part of it since the beginning. Norse myth offers a tale of Thor dressing in drag to fool a frost giant into returning his stolen hammer Mjölnir. There's also Anansi the spider, an African trickster spirit that cheerfully trolls anyone and anything it can. Those are just a couple of examples.
There are plenty of funny fairy and folk tales, too. Jack and the Beanstalk, Puss in Boots, and Goldilocks and the Three Bears, just to name a few. Of course, Shakespeare worked plenty of laughs into his own take on the fairy tale, "A Midsummer Night's Dream."
Heading into the modern era, fantasy fiction godfathers Lord Dunsany, and James Branch Cabell, wrote for chuckles, as did fantasy-adjacent authors like Jonathan Swift and Mark Twain. Plenty of old school fantasy writers did, too. Fritz Leiber's stuff is full of chuckles, as is Fletcher Pratt's.
There are plenty of contemporary fantasy writers who know their way around a joke, and if you're looking for a laugh, then you've come to the right place. Here are our suggestions for the humor-hungry bookworm.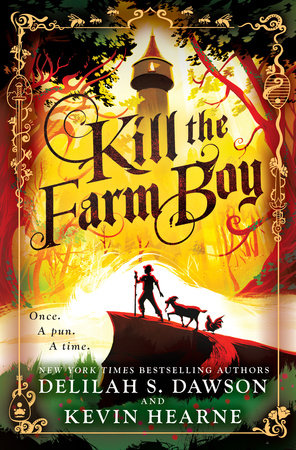 Kill the Farm Boy
KEVIN HEARNE AND DELILAH S. DAWSON
Iron Druid Chronicles author Kevin Hearne and Star Wars: Phasma author Delilah S. Dawson's Kill the Farm Boy is a take-no-prisoners comedy assault on the high fantasy genre, complete with a trash-talking goat, necromancer named Steve, and a Dark Lord who is a bit of a turophile — a cheese lover, that is. It isn't out until July 17, but this should be a definite pre-order for the comedic fantasy fan.
The Color of Magic
TERRY PRATCHETT
Sir Terry was the 800 pound gorilla of comedic fantasy, and that's not going to change any time soon. Few, if any, fantasy readers would argue with the contention that his Discworld series pretty much made the genre what it is in the modern age. What is arguable is where one should begin reading the series. According to some fans, you can jump in anywhere you like. Others point to this or that volume as being better points of entry. With all of that in mind, I'll just point you toward the first book, The Color of Magic, and you can decide for yourself.
Another Fine Myth
ROBERT ASPRIN
Robert Asprin, like Sir Terry, was a giant in comedic fantasy. His Myth Adventures series started with a fairly formulaic trope — the bumbling wizard's apprentice — and took it to some weird, weird places. Book one introduces the aforementioned apprentice, Skeeve, his fearsome-looking demon sidekick Aahz, and a host of other misfit characters you'll come to know and love as much as I did. A note: the series seems to be out of print in dead tree, but the ebooks are still available.
The Hike
DREW MAGARY
Drew Magary's fantasy novel The Hike is one of the strangest and funniest contributions to the genre that I've read in the last few years. It's the story of a guy whose short walk in the woods turns into an epic journey across a fantasy world populated with hungry giantesses, witheringly sarcastic crabs, dog-men, and dwarves — Oh God, the dwarves. I almost forgot. Dwarves.
The Princess Bride
WILLIAM GOLDMAN
You were expecting this one, weren't you? Well, you should be — and with good reason. Goldman's The Princess Bride is as heartwarming as it is funny, and the book is just as much a pleasure to experience as the movie based on it. (You've never seen "The Princess Bride"? Stop reading this now and go. Just go and watch it. I'll wait.)
In the Company of Ogres
A. LEE MARTINEZ
A. Lee Martinez has written a ton of funny stuff across half a dozen genres. In the Company of Ogres is his sharp, pointy stick in the eye of proper fantasy fiction. It's about a guy — a guy who has trouble staying dead — who is put in charge of an oddball company of monsters, including, but not limited to, a two-headed ogre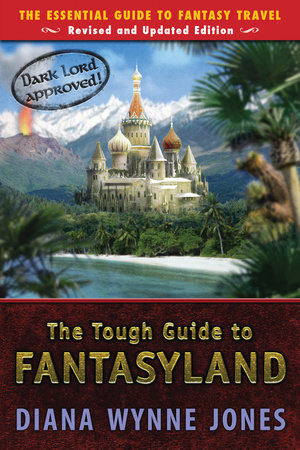 The Tough Guide to Fantasyland
DIANA WYNNE JONES
The Tough Guide to Fantasy Land is your travel guide to the fantasy worlds of your favorite authors. Which ones? All of them! Jones parodic masterwork skewers the fantasy tropes that all of us know and love, from magic swords to dark lords. If you've ever lost a few hours at tvtropes.com, then this book is for you.
Bored of the Rings
THE HARVARD LAMPOON
Bored of the Rings is a parody of J. R. R. Tolkien's classic written by Henry N. Beard and Douglas C. Kenney, Harvard Lampoonstaffers who went on to launch the classic humor magazine (and movie production company) National Lampoon. Like the Lampoon itself, the humor of Bored of the Rings can be downright crude, but if your taste leans that way, then you'll probably enjoy it. (No judgment!)
Kings of the Wyld
NICHOLAS EAMES
In a world where adventuring parties are like rock bands, Clay Cooper and his rowdy crew of mercenaries were legends. Now they're older, and out of shape, and married, and … well, they're not kids anymore. But it's time to get the band back together, and show that you're never too old to rock. The cover of this book, while awesome, makes it seem a lot darker than it really is. Honestly, it's a really funny story about the bonds of friendship. And friendly zombies. Air ships, too.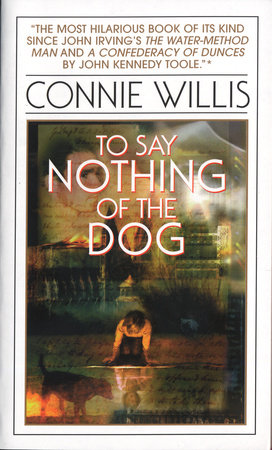 To Say Nothing of the Dog
CONNIE WILLIS
I'll readily concede to stretching the definition of "fantasy" for this one, but I would be remiss not mentioning this bona fide classic.The invention of the time machine has opened up the past to historians in a way that their forebears could only dream of. There are rules, though: You aren't supposed to bring anything back with you from the past — least of all a cat. Now an overworked Oxford Don has to return to the 19th century to set things right. To Say Nothing of the Dog is part of the same universe as The Doomsday Book, but a heck of a lot funnier.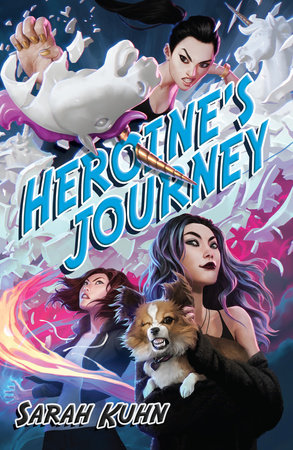 Heroine's Journey
SARAH KUHN
Does comedic fantasy only come in chainmail and wizard's hats? I think not. Sarah Kuhn's Heroine Complex novels stand as proof that you can find big laughs in other forms of fantastic literature. In her case, superhero fiction. Heroine Complex is about a former personal assistant to an A-list superhero whose life turns upside down when she discovers her own powers. Look for book three, Heroine's Journey, on July 3!