Combined Print & E-Book Fiction
THE OUTSIDER by Stephen King (NEW)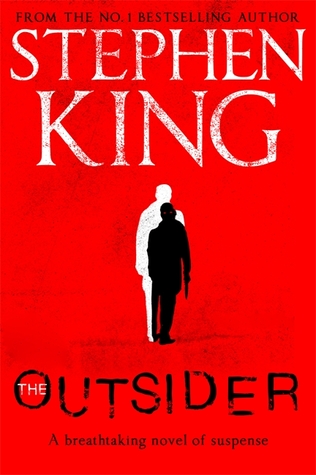 An eleven-year-old boy is found in a town park, hideously assaulted and murdered. The fingerprints (and later DNA) are unmistakably those of the town's most popular baseball coach, Terry Maitland, a man of impeccable reputation, with a wife and two daughters. Detective Ralph Anderson, whose son Maitland coached, orders an immediate and public arrest. Maitland is taken to jail, his claim to innocence scorned. Maitland has a foolproof alibi, with footage to prove that he was in another city when the crime was committed. But that doesn't save him either.
THE 17TH SUSPECT by James Patterson and Maxine Paetro
The latest installment in the Women's Murder Club series. Detective Lindsay Boxer searches for a killer in San Francisco.
THE FALLEN by David Baldacci
Amos Decker, known as the Memory Man, puts his talents toward solving a string of murders in a Rust Belt town.
BEACH HOUSE REUNION by Mary Alice Monroe (NEW)
Three generations of a family gather one summer in South Carolina.
THE CAST by Danielle Steel
A magazine columnist meets an array of Hollywood professionals when a producer turns a story about her grandmother into a TV series.
REBEL HEART by Penelope Ward and Vi Keeland (NEW)
A sequel to "Rebel Heir." The summer fling between Rush and Gia continues.
THE MIDNIGHT LINE by Lee Child
Jack Reacher tracks down the owner of a pawned West Point class ring and stumbles upon a large criminal enterprise.
LITTLE FIRES EVERYWHERE by Celeste Ng
An artist upends a quiet town outside Cleveland.
ROGUE ROYALTY by Meghan March (NEW)
The final book in the Savage trilogy.
BEFORE WE WERE YOURS by Lisa Wingate
A South Carolina lawyer learns about the questionable practices of a Tennessee orphanage.
TWISTED PREY by John Sandford
The 28th book in the Prey series. A federal marshal looks into the actions of a member of the Senate Intelligence Committee.
THE COUPLE NEXT DOOR by Shari Lapena
A couple's secrets emerge after their baby disappears.
THE GREAT ALONE by Kristin Hannah
A former prisoner of war returns from Vietnam and moves his family to Alaska, where they face tough conditions.
BY INVITATION ONLY by Dorothea Benton Frank
Two families are brought together when the daughter of a Chicago power broker and the son of a Southern peach farmer decide to wed.
THE HIGH TIDE CLUB by Mary Kay Andrews
An eccentric millionaire enlists the attorney Brooke Trappnell to fix old wrongs, which sets up a potential scandal and murder.
Combined Print & E-Book Nonfiction
THE RESTLESS WAVE by John McCain and Mark Salter (NEW)
"I don't know how much longer I'll be here. Maybe I'll have another five years. Maybe, with the advances in oncology, they'll find new treatments for my cancer that will extend my life. Maybe I'll be gone before you read this. My predicament is, well, rather unpredictable. But I'm prepared for either contingency, or at least I'm getting prepared. I have some things I'd like to take care of first, some work that needs finishing, and some people I need to see. And I want to talk to my fellow Americans a little more if I may." So writes John McCain in this inspiring, moving, frank, and deeply personal memoir. 
FACTS AND FEARS by James R. Clapper with Trey Brown (NEW)
The former director of national intelligence describes events that challenged the intelligence community and considers some ethical questions around its efforts.
THE SOUL OF AMERICA by Jon Meacham
The Pulitzer Prize-winning biographer contextualizes the present political climate through the lens of difficult moments in American history.
HOW TO CHANGE YOUR MIND by Michael Pollan
A personal account of how psychedelics might help the mentally ill and people dealing with everyday challenges.
BARRACOON by Zora Neale Hurston
A previously unpublished, first-person account of Cudjo Lewis, a man who was transported and enslaved 50 years after the slave trade was banned.
BAD BLOOD by John Carreyrou (NEW)
The rise and fall of Theranos, the biotech startup that failed to deliver on its promise to make blood testing more efficient.
A HIGHER LOYALTY by James Comey
The former F.B.I. director recounts cases and personal events that shaped his outlook on justice, and analyzes the leadership styles of three presidents.
KILLERS OF THE FLOWER MOON by David Grann
The story of a murder spree in 1920s Oklahoma that targeted Osage Indians, whose lands contained oil.
SAPIENS by Yuval Noah Harari
How Homo sapiens became Earth's dominant species.
EDUCATED by Tara Westover
The daughter of survivalists, who is kept out of school, educates herself enough to leave home for university.
HILLBILLY ELEGY by J.D. Vance
A Yale Law School graduate looks at the struggles of the white working class through the story of his own childhood.
I'LL BE GONE IN THE DARK by Michelle McNamara
The late true-crime journalist's search for the serial murderer and rapist known as "the Golden State Killer."
THREE DAYS IN MOSCOW by Bret Baier and Catherine Whitney
The Fox News anchor describes Ronald Reagan's 1988 visit to the Soviet capital.
FACTFULNESS by Hans Rosling with Ola Rosling and Anna Rosling Ronnlund
A look at our biases and the argument for why the world is in a better state than we might think.
ROBIN by Dave Itzkoff
A New York Times journalist details the career and struggles of the actor and comedian Robin Williams.